Company Profile
Portland Industrial Laundry (PIL) commenced trading in 1990 emanating from the dream and energy from several individuals. Now Directors, John & Heather Abbott & Kym & Sue Hooper, commenced business with the equipping of a small laundry and one customer behind a Laundromat in Barkly Street, Portland. The Principals had identified a gap in the workwear rental industry, particularly in Portland and Western Victoria generally. They did not believe that the current quality and service in textile care in this area was adequate.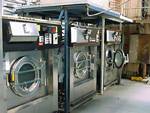 The principals believed that they could do better, and in the last fourteen years have done so. The company, as a combined result of energy and efforts of the Principals and their staff, has converted from those very small beginnings into a thriving business which satisfies the needs of companies in Western Victoria, the South East of South Australia, Sydney, New South Wales and Mount Isa and Townsville in Queensland. The business has grown into a firm now having over three hundred satisfied customers in Smelting, Engineering, Dairies (food grade clothing), Automotive, Transport, Electrical, Mining, Hospitality and other service industries.
Our Facility
Our principal address: 32 Barkly Street Portland Vic 3305
452 Square Metres
Operates 7 days per week
Purpose-built layout
Modern machinery
Quality Assurance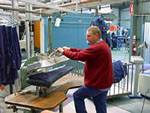 Portland Industrial Laundry is committed to its Quality Assurance program and achieving ASI 9001 Safety Map in the Workplace
Our System
1. Garment Control and Tracking – We have an in-house garment tracking system through which all our garments are tracked to enable ease of Invoice and more importantly to give both us and our customers rental management information.
Each garment has unique barcode number, which can provide details of: -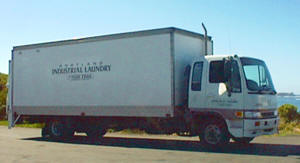 Wearer
Company and department
Number of garment washes and dates of last 3-5 washes
Stocktake information
Many other features
2. Stock Control – We do twice yearly Stock Reviews of all stock to ensure that all stock is accounted for and staff are using all their garments.
3. System Surveys – We do twice yearly formal System Surveys to 'keep us on track" and rectify any service problems as feedback for our own internal systems.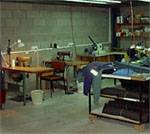 4. Garment Repairs – We have a system of Garment Repairs for all garments that ensures that they are noted and completed expediently.
5. Our Service Representatives who call on our clients are there to provide personalised on hand service to our customers when required and for any service problems, that might arise.
6. Invoicing – Our invoicing is done on a weekly basis. Listing for your purposes, all staff currently on the system to ensure our records are accurate. The invoice total of course would be the presentation price, multiplied by the number of garments presented each day.